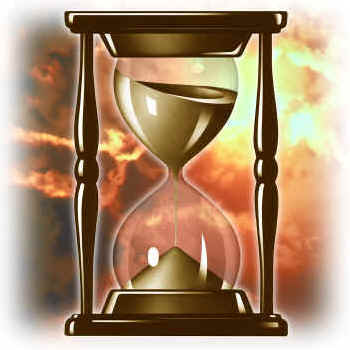 I think that time is a fluid thing. Much like the sands through the hour-glass, time is something that you can't put the cork back in. To my knowledge, there is no way to push just the right button on the stopwatch and pause. So, if that is the case then time is our most precious commodity. Not oil, not coal, not our economy, not the value of the dollar against the yen/euro/peso/tooney/ruble, or the price of tea in China.
So let's look at time for a minute. You will have to admit that there a lot words for money, such as a Buck, Fiver, Looney, Cabbage/Lettuce, or Benjamin's. Time is the same way.
These are my terms, and you can hold me to these:
When you get the chance: When you find the time.
In a day or so: 3 days, maybe 4.
For a bit: 15-30 minutes.
For awhile: 1 -4 hours, or perhaps longer. After 4 hours, I'll be in touch to see if I need to bring anything home, such as smokes, snacks, dinner, milk, diet coke, etc.
I will be right back: I will be gone long enough to urinate and check the fridge.
I need a minute: I need 20 minutes to collect myself, perhaps a shower/soak in the hot tub.
Just a sec/tick: 45 seconds to 59, no more.
Give me a break: I need 15 minutes away from you.
It's good to see you: I'm looking forward to spending an hour or two with you and catching up.
Sonofabitch, it is good to see you: I am canceling any plans I had and I look forward to spending the evening catching up.
Hold that thought: As much as I enjoy your conversation, I must answer the call of nature for 35-40 seconds, perhaps longer, if I can wash my hands.
I'll be back in a couple: As quick as I can, but I'm guessing 3-5 minutes.
Take care: I expect to see you tomorrow, or a least in a day or two.
Take care you Bastard, and give me a ring sometime: I don't expect to hear from you for a month or two.
Take care my brother: The instant you get to where you are going, call me. I will drop what I'm doing to hear from you.
Get Bent: I need fifteen more minutes away from you, or else I'm going to punch you in the throat.
Sometime: In the vague and distant future, with no time-frame specified.
You're alright: At this point in time, I find you to be an exemplary human being and I look forward to the time we spend together.
Pound Sand: I give you 5 minutes to straighten up, or I'm leaving, and/or kicking your ass.
I hate to sound like a bum but...: My back is against a wall and I need to ask you a minor favor, usually I'm out of cigarettes and I want to smoke one of yours, or I have something heavy to move and I need your help but I will provide gas money/lunch/beer.
Yeah, in a minute: when I feel like it. I have alot to do now.
Are you coming right back?: Are you going to whiz, check the fridge, and return to me?
Wait right here: I will return as quick as providence allows with whatever you desire.
On Me: I need you here now, and within arms reach.
I love you: I would always prefer to have you within arms reach, but wherever you go, I will be there too, and always will be, no matter what, so help me God.
I'm sure that there are other terms I havn't covered, but I can't think of any now. Do you have your own terms? I'd like to hear about them, you know, when you get the chance.
Doc