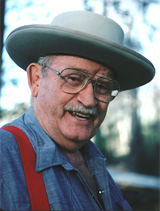 I felt it was time to change up the new audio feature here at SZ, tcob, since the little chestnut that is there (Fat Wally's Trangressions) has been haning around for some now, and if you haven't heard it, you can always poke around and find it here on the blog somewhere.
This time I decided to put up the work of someone else and just run with that. The first joke I swiped from master storyteller, Justin Wilson. My creole accent is very bad, but I feel obliged to reproduce it as best I can, in honor of this fine funny man.
The other is a classic farmer joke that my brother taught me in the third grade, and it has stuck with me for all these years.
I must admit that I was a bit hesitent to put any audio on the blog, but after Dale's rave reviews, I thought that maybe I'd give it another go.
So without further ado, "Quick! Make with the funny!"
Doc