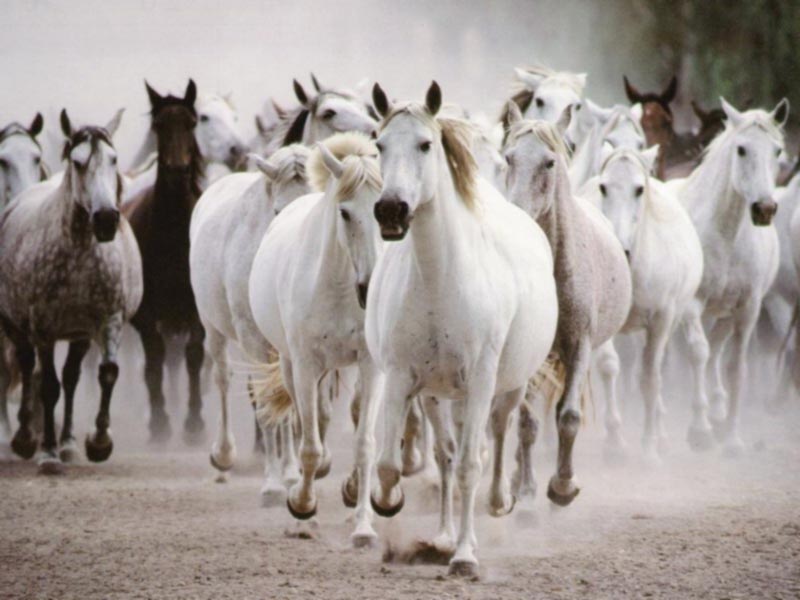 If Wishes Were Horses, Then Even Beggers Would Ride.
Anon.
I'd feed all those hungry children down by the tracks,
I'd give Mom and Dad some of their young years back,
I'd let all those crippled children get up and run,
I'd take the blind and lead them out into the shining sun.
If I could have the world the way I want it,
What a day tomorrow could be.
If I could have the world the way I want it,
I would set these children free.
I'd pay the debts of all the poor and let them start anew,
I'd find each man who wants to work a decent job to do,
I'd give hope to the hopeless and I'd give the sick their health,
I'd get the high and mighty hearts to share the nation's wealth.
If I could have the world the way I want it,
What a day tomarrow could be.
If I had the world the way I want it,
I would set these children free.
I'd take all those sad and hungry people off of the street,
Each weary walking traveler would have shoes upon his feet,
I'd find the young men in the far off places of the world,
I'd bring them home to see their fathers, mothers, and their girls.
If I could have the world the way I want it...
Tom T. Hall, If I Could Have The World The Way I Want It, from the album "Ballad of Forty Dollars"
***

Ah wishes, I got a million of 'em. The ills and woes mentioned above in Tom T.'s song are just a few that occur to me immediately. I was reminded of this as I read about the big get together in Chicago that Flannery and I missed. I wish we could have been there. Hell, I wish we could have all been there. It would have been nice to spend the evening drinking cold beers and enjoying warm conversations with you all. But since I'm wishing, it would be silly not to ask for something big, like spending a weekend with each of you in turn.
I could sit and enjoy Sunday cocktails with Bubs and MizBubs and meet their girls, and in the evening we could step outside for a good cigar and talk about the war that the crocs and gators are waging upon us. Bubs would become Chief of Police and crime would disappear from the country.
We would spend the weekend with Chris and Megan enjoying an endless amount of delivered food that always appeared fresh and hot two minutes before we knew we were hungry, as well as Megan's famous cookies, so there wouldn't be any interuptions to our lively conversation or the long list of documentary films we decided to enrich ourselves with.
We could hang out with Johnny Yen and visit his old neighborhood as he, Phil, Grant Miller, Splotchy, and Frank Sirmarco show us everything that Chicago has to offer, especially good blues joints, museums, and perhaps some of the seemy underbelly of the town. I could make a few phone calls, and within a week they could all have book deals for ridiculous amounts of money, except Phil. He would be slated for a ten year contract for Broadway playing whatever he wanted, and he wouldn't have to move. They could fly him home when he wanted, or just film a hologram that would stand in when he "didn't feel like it" and he would get oodles of money as well.
I could visit my buddy Skyler's Dad and he could introduce me to his beautiful family. That evening the doctor would call and say they found a pill that would heal Skyler completely with no bad side affects, and they would send it over by courier in ten minutes. I'd take them out for steaks and afterwords, have the limo take us to the game so we could witness GetkristiLove put the "biscuit in the basket". She would find herself on the cover of Sports Illustrated for eight months that year and would inspire all Americans to encourage their daughters to become the next Kristi Love, as well as spawning the worldwide craze for women's hockey. In two short years Kristi becomes the head of the organization and has her picture featured prominently in every classroom of the world next to Harriet Tubman, Martha Washington, Betsy Ross, and Marie Curie.
Then Flannery and the kids and I would venture a little further west and hook up with Vikkitickitavi and meet this mysterious Spooney she speaks so highly of. She could show us the sights of the city of angels and my little girls could play in the surf of the pacific ocean. She will be recognised as the most astute political mind of our age and will steer our public policy for the next sixty years, as well as having traffic part for her wherever she goes.
Then we would have to take a jaunt north to visit my pal Cooper Green, so he could spin wild tales of what it was like to grow up in the town of Codpecker Inlet. Mind you, we would have to bring birthday gifts of bizare sounding Brazilian wine and weird cheese that smelled like hamster puke, as well as a paid for hit on his nephew, Kevin, and a throat lozenge that cured Chrohn's disease, but from what I understand these are the sorts of things a sixty year old Canadian prefers. When his lovely wife Pammie finally throws us out like yesterdays empty twelve pack, we could travel east in our own custom built railway car, as I refuse to fly, and visit Dale and Tanya Espanya. Tanya could show off her little bundle of joy, as well as explain where he came from to my little girls, while Rowbear and I have cold Labatts on the back deck and he shows us the pictures from Greece. The college of her choice would call and gaurentee a free ride for her little boy, but only under the condition that they have a lifelong world hopping jet at their disposale which the college will provide. Later that evening we could meet up with Dale and we could all take turns discussing the freaky nature of his neighbors as we watched them through his telescope. We would enjoy an exotic meal of animals that would no longer be endangered, as well as fries served with gravy, and take the limo to Dales favorite opera. We would have the best box seats, opera slippers, cocktails, and those little brass binoculars on a stick that seem to be a prerequisite for the opera. After the first hour of Dale listening to me say "What'd he/she say?" over and over again, he would slap me sharply and I would suddenly be able to understand Italian and German with no effort. As the show ended, I would leave a check for the amount that it would take to fund the opera for the next thousand years, provided Dale was made the chairman of the board.
From there, we would hop into our private railway car and venture back across the boarder to visit Coaster Punchman and Poor George. We would arrive to attend the most lavish wedding ever seen since Prince Charles and Diana tied the knot, all of which would be paid for by the great state of New York. Mama Gin would weep, but be happy that her little boy finally found the love of his life. Beckeye would be in attendance and the news media that interviewed her afterwords would be enchanted by her charm and wit. To capitalized on the frenzy that the world showed for this unpresidented event they would all be offered lifelong contracts to have their own networks and rockstars the world over would clamor to appear on their shows. Mary Tyler Moore was quoted as saying she was "deeply moved."
We would make a quick stop in D.C. to straighten out those monkeys on the hill as well as visit dear Evil Genius. We could sit for hours enjoying barbeque sandwiches surrounded by marble, discussing world domination and women from history that we have considered "giving the business" to.
From there Flannery and I would venture down south to the land of cotton, hospitality, and sweet tea. We would check up on Beth and see how her new record label was doing, as well as her string of radio stations. We could see the sights that Atlanta has to offer and then venture home to our new brewery/Tiki bar that would outshine Canton's one claim to fame, the Pro Football Hall of Fame.
Ahhh, wishes. I got a million of 'em.
Doc